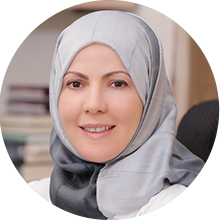 Member of the American Academy of Dermatology
Member of the International Society of Dermatopathology
Member of the Lebanese Society of Dermatology
Dr. Maya Zayour is one of the few dermatologists in Lebanon specialized in fat transfer and Laser Liposuction for males and females. She also performs top quality, high end cosmetic procedures.
Dr. Zayour joined the American University of Beirut (AUB) in 1995 where she completed medical school and residency in Dermatology. She spent the years from 2006 to 2011 at Yale University in Connecticut, USA where she expanded her dermatologic knowledge and cosmetic experience under the tutelage of some of the world's most renowned general and cosmetic dermatologists. At the same time, she conducted research and published several papers in highly acclaimed scientific journals and presented many lectures at national and international conferences.
Dr. Zayour is at the forefront of non-surgical skin rejuvenation. She is an expert in skin care and laser treatments of all skin types. She is very particular at maintaining the natural look that respects individual beauty.
Dr. Zayour is especially experienced in performing Laser Liposuction for males and females. In Beirut, Dr. Zayour created a warm, soothing environment equipped with the latest medical technology to help her patients look and feel their best. Just recently FDA approved, Laser Liposuction is used to redefine and minimize many problem areas such as the neck, jaw, arms, hips, thighs, abdomen, love handles, bra strap area and breasts. With this laser-assisted medical procedure, fat cells are permanently removed and the skin is tightened, resulting in a smooth and sculpted body.
Dr. Zayour is a distinguished expert in aesthetics and has been featured on several Radio and TV Shows. She was also interviewed on numerous dermatologic and cosmetic topics by many social and beauty magazines.
Dr. Zayour currently works between Beirut, Lebanon and Ohio, USA.